Shay Watson
Producer. Artist. Songwriter. TV & Film Composer.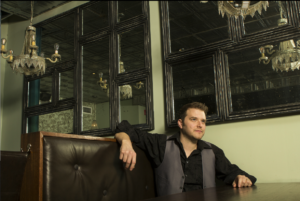 Shay Watson is known for his work in TV/Film as a composer and songwriter. He has also written for and produced many popular artists and bands.  In addition, Shay has toured as a solo artist and in various bands.
Shay Watson's music appears regularly in hit TV Shows on various networks and cable outlets including: CBS, NBC, HBO, Showtime, Nick Jr., History Channel, Discovery, A&E, Fox, ESPN, Family, Hallmark, National Geographic, TLC, PBS, Netflix and many more. 
A short list of shows include: The Young and the Restless, Dance Moms, Shameless, Single Ladies, Hollywood Heights, Homicide Hunter, Murder Calls, The Extractors, Snapped Killer Couples, American Greed, Haters Back Off, My First Home, World's Funniest Dogs, Big Tips Texas, Hunting Hitler, Killer Post, Wives With Knives, Murder Calls, Murder Chose Me, Justice By Any Means as well as numerous other TV shows.  
He has also appeared on several television series such as Family Channel's, Nashville Unleashed (as himself) and the hit show Nashville (as keyboardist for the character Markus Keen) amongst other shows.
Shay Watson wrote the opening song for the movie, Aliens Ate My Homework, starring William Shatner, distributed by Universal and well as music for several Hallmark Christmas Movies.  He also scored music for the documentary 'Pearl Harbor USS Oklahoma: The Final Story.'
He has written songs for bands and solo artists in various genres of music, including Dove Award Winning band, The Sidewalk Prophets, Eliot Sloan of Platinum selling pop artists, Blessid Union Of Souls, Grammy Winning DC Talk and Newsboys' Michael Tait, Grammy Nominees-Sonicflood, Lauren Lizabeth, Lilly Winwood, Watson & Nash and James Clay amongst many others. 
Other artists that Shay Watson has shared the playbill and/or worked with a in various capacities include:
CCM Artists:
Sidewalk Prophets, Switchfoot's Jon Foreman, Sonicflood, Selah, Michael Tait, Maleywa Soul, Jer3miah, The Elms, Derek Webb, Sandra McCracken, The Ladds, Rhett Walker, Ashes Remain, amongst others.
Pop & EDM:
Beatex, Stage Two, Bower, Scovendo, Dani King, Radio Disney's Callan Lane (Cali), Lilly Winwood, Eliot Sloan (Blessid Union of Souls), American Idol's Alex Renbarger (Alexander Wren), The Voice's Bay Brooks, The X-Factor's Caitlin Koch, Brennan Hunt, Madi Diaz, amongst others.
Country:
Charlie Daniels, Eric Paslay, Gretchen Wilson, Platinum selling artist Tammy Cochran, Ronnie McDowell, Billy Joe Royal, The Jordanaires, Street Recording Artists-Callico Trail, Curb recording artist-Deborah Allen, T. Graham Brown, Tanya Tucker, The Late Holly Dunn, American Idol's Jacquelyn Dupree, Lyric Street Recording Artist, Lisa Shaffer, Cherish Lee, Brady Seals and Lauren Lizabeth, amongst others.
Alternative Bands and Other:
The Dirty Dozen Brass Band, Anti-Records recording artist-Jolie Holland, Trilobite Cafe and amongst others.
Broadway, Cabaret Artists & Musicals:
Paul Rolnick, Karen Mason, Broken-A Musical
Shay Watson's music (songs and music scores) has also been included on the following compilation projects:
Music For A Worship Driven Life (Warner), Artists In Adoration (Word), DISO Music, Vol. 1, Mysterious Girls Music, It's Clubtime, Vol. 2 The Electro Suprise, Power Workout Electro Music, Extreme Power Music,  Crosstrainer Special Electronic Music, Best of Crosstrainer Electro Music 2015, Summer Breeze Electro Music, amongst others.
Shay's songs have been cut and singled to radio by various artists in the United States as well as overseas, carving out a place for himself in the global music community as a songwriter, artist and producer.  His music has also been arranged and scored for various instruments and ensembles and is available in print.  In addition, Shay's songs were used in the musical, Broken.  Listen to Shay's music by visiting the Music page.
In addition to his activities in music Shay Watson is working on a historical fiction novel and is involved in child advocacy. He is a former artist/spokesman for Mission of Mercy, a Christian relief organization that helps find sponsors for poverty stricken children in underprivileged areas of the world. Shay is also involved with the Lust Free Living organization.  Shay also regularly leads worship and is music director at Covenant Baptist Church in Brentwood, TN.
Shay Watson and his wife Claire live in the Nashville/Brentwood area and have two children, Piper and Noble.